Reliable and stable products are the lifeblood of an enterprise. Timeyaa always insists on quality first and provides customers with reliable products. Recently, after strict review by the review experts of Encore Certification Company, Timeyaa passed the ISO13485:2016 medical device quality management system certification and obtained the certificate. The certification includes the research and development, production and sales of PCBA control boards for medical devices, involving forehead thermometers, Electric toothbrush, beauty instrument, massage instrument, oximeter and other PCBA control panel products. This indicates that the production quality management of the company's medical device control panel products can meet the requirements of national regulations and standards, and the company's overall operation management level has reached a new level.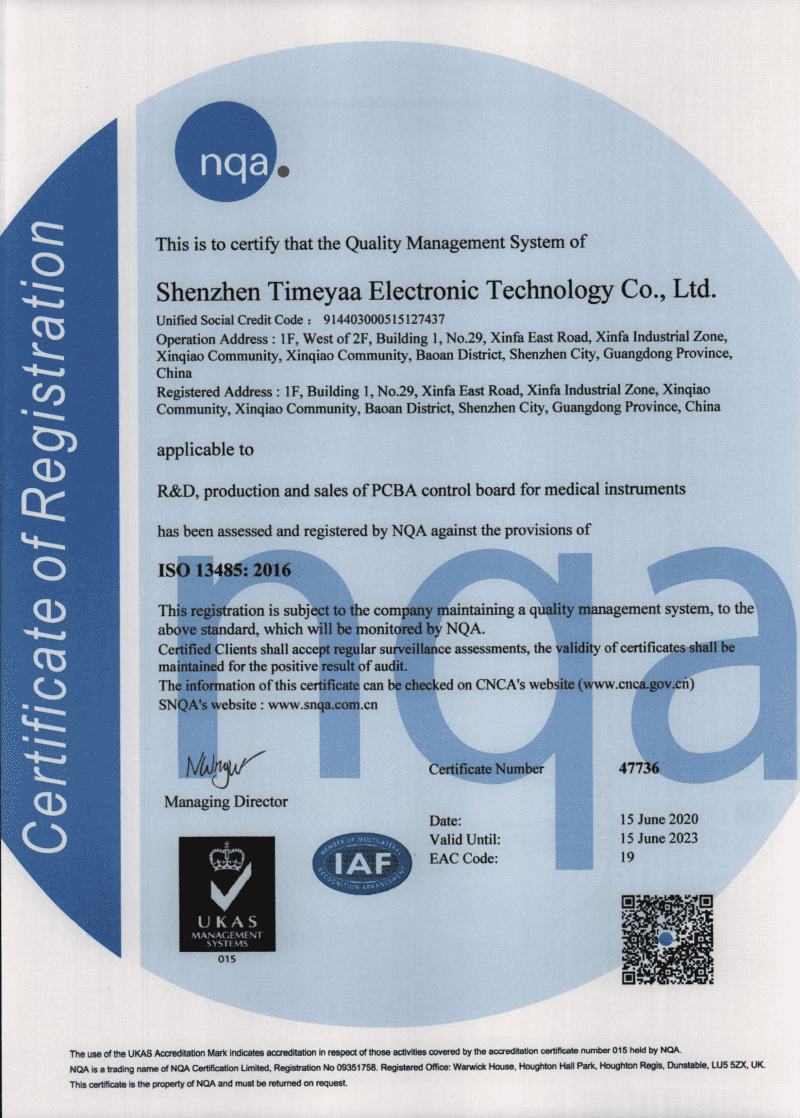 The ISO13485 certification standard is a completely independent standard specially formulated for the medical device industry based on the ISO9001 "Quality Management System Requirements" standard. ISO13485 emphasizes the importance of implementing medical device regulations, puts forward relevant medical device regulatory requirements, and ensures the safety and effectiveness of medical devices by meeting the requirements of medical device regulations. The medical device industry has always used the ISO13485 standard as the basis for quality management assurance.
In May 2020, the members of the audit team conducted a strict on-site inspection and audit of the company's production, quality, R&D, technology, sales and other departments and the implementation of the operation of the quality system, documents, records, process regulations, etc. Experts of the audit team believe that: the company's management system structure is complete, relevant documents are sufficient, the quality manual, procedure document implementation and internal audit management review are in good operation, and meet the requirements of the ISO13485 standard, and give full affirmation and high evaluation.
In the future, Timeyaa will continue to improve, continuously strengthen and enhance the overall quality management work, prevent and reduce quality costs, and enhance customer satisfaction.