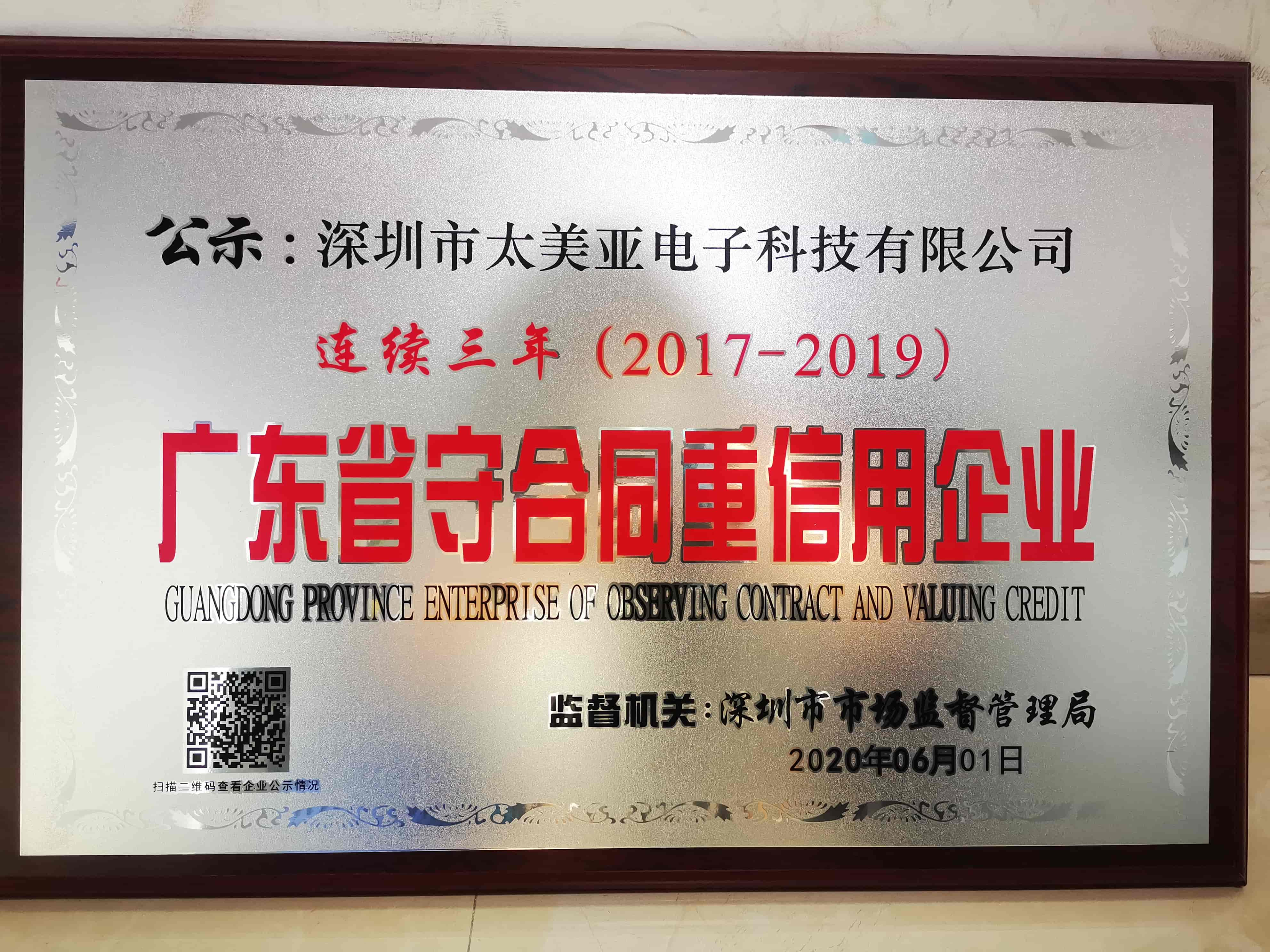 Recently, the results of the 2019 "Guangdong Province Abiding by Contracts and Valuing Credit Enterprises" selection results have been released. Shenzhen Timeya Electronic Technology Co., Ltd. has been awarded the honorary title of "Guangdong Province Contract-abiding and Credit-Respecting Enterprises" awarded by the Guangdong Provincial Administration for Industry and Commerce for three consecutive years.
The selection activity of "Contract-honoring and Credit-Reliable Enterprises" is the Guangdong Provincial Administration for Industry and Commerce in order to encourage enterprises to strengthen contract and credit management, promote the construction of enterprise credit in Guangdong Province, and create a harmonious and safe market transaction environment. The principle of good faith stipulated in the Law, based on the objective records of the contract performance of the enterprise, after a strict review, it is an activity to identify and publicize the enterprise whose contract performance credit degree has reached the specified standard.
The sustainable development of an enterprise. Timeyaa has always attached great importance to the construction of corporate credit and contract management. In the daily contract performance, it emphasizes integrity and pays attention to performance, and strictly performs relevant rights and obligations in accordance with the content of the contract.
This time Timeyaa won the title of "Guangdong Province Contract-honoring and Credit-Reliable Enterprise", which is an affirmation of Timeyaa 's work in trustworthy management and will prompt Timeyaa to further strengthen corporate credit management and continuously improve the management level of enterprise contract credit. Timeyaa will continue to adhere to law-abiding and honest operation, play a leading role in demonstration, and make greater contributions to creating a good market environment and promoting the construction of a harmonious society.