The wind is beautiful and the autumn is full. On the three-day tour of Zhangzhou, colleagues will accompany you. On September 20th, the employees of Taimei Asia bid farewell to the city, put down their work pressure, and came to a trip that said they would leave. While enjoying the beautiful scenery of nature, everyone has enhanced the feelings of colleagues and fully felt the team spirit of sharing together, being together and sharing happiness.
On the first day of the trip, we came to the Feitian Mountain Scenic Area from Shenzhen. Everyone in the mountains, the beautiful water, the strange stones, the secluded caves, together over the mountains and mountains, hand in hand, can not help but sigh the magic of nature.
In the evening, the company also specially prepared local farmhouse dishes and fresh beer for everyone. The atmosphere at the scene was very lively, everyone toasted and enjoyed a toast to this happy trip, for the mutual help and cooperation between the departments, and the company's great show!
Xiaodongjiang + Monkey King Village
We came to Xiaodongjiang, Zhangzhou, breathing fresh air and walking along the riverbank on the boardwalk. There are fishermen who sprinkle the net from time to time on the river, as if they were in the painting, they are very dreamy. As the sun rises, we leave the boardwalk and take a boat tour of the Xiaodongjiang River and visit the Dodge Rock on the island.
In the afternoon, I went to the Monkey King Village Scenic Spot, where the stream flows through the canyons. Listening to the mountains and the mountains, the foot touches the spring water, and the fascinating scenery makes people feel overwhelmed. In order to relieve everyone's fatigue, we specially book five-star hot spring hotels, local specialties and natural hot springs for everyone.
Mountaineering is a contest between physical strength and endurance, and it also tests the spirit of teamwork. In the process of Dengshan Mountain, some colleagues could not keep up with the team, and their teammates took the initiative to help. I climbed to the top of the mountain along the bottom of the mountain and experienced a small view of the mountains. I overlooked the scenery below, and I felt that nature is amazing! Everyone is tired and happy along the way, playing fun!
Careful recollection of this trip, compared to the joy of sightseeing, a sweet smile, a wonderful moment, interpretation of the spirit of Taimei people's positive, united and friendly. During the trip, the beautiful scenery has been lingering, leaving us with wonderful memories, deepening the understanding between colleagues, and pulling in the distance between the heart and the heart, so that the team is more harmonious.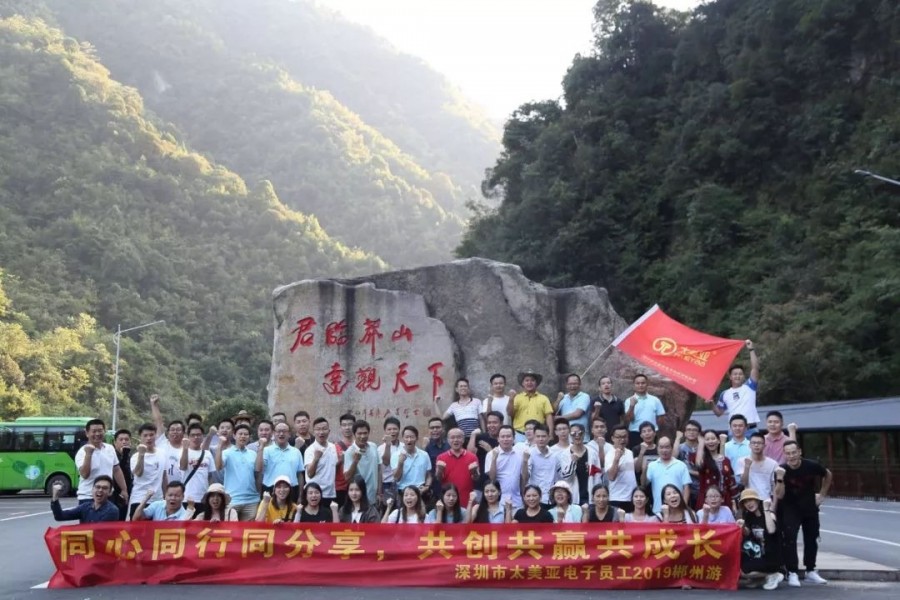 When the tour returns, we will devote more energy and enthusiasm to our work and contribute our strength to Taimei. Because, we are a team! We share with our peers to create a win-win situation!